Research
Nuclear Conversion Engineering Lab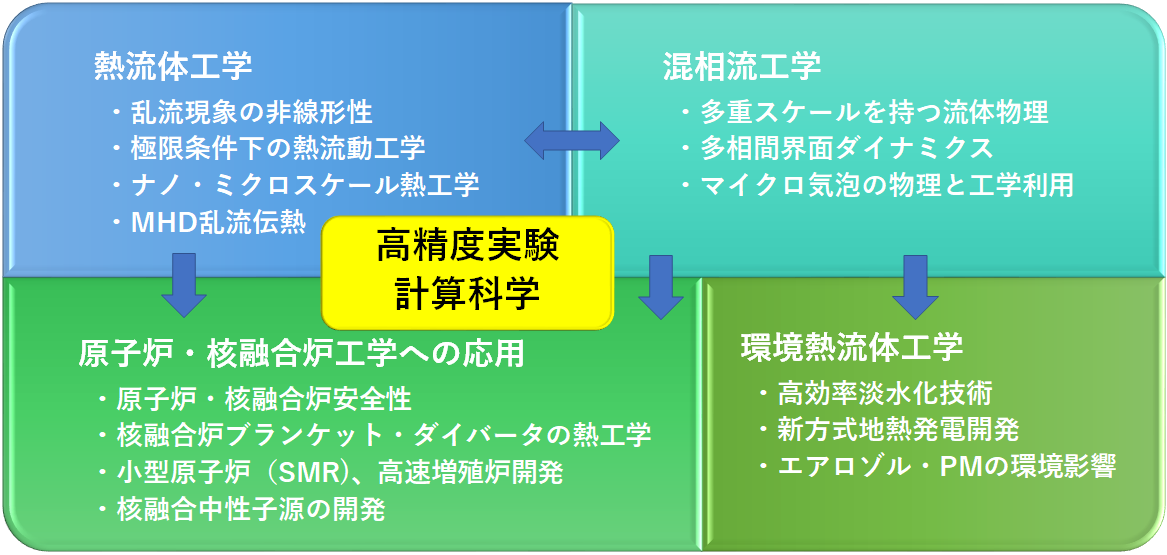 RESEARCH POLICY
・核反応によって生じるエネルギーを安全かつ効率的に利用するため、
その発生と変換に関する物理及び工学について研究を行う。
In order to use the energy generated by nuclear reactions safely and
efficiently, we will research the physics and engineering related to their
generation and conversion.


・基礎的な物理機構の解明に基づき、有効な制御手法を構築することによって、
環境適合性の高いエネルギーシステムの実現に寄与することを目的とする。
We aim to contribute to the realization of an energy system with high
environmental compatibility by constructing an effective control method
based on the elucidation of the basic physical mechanism.


・具体的には原子炉(核分裂炉、核融合炉)におけるエネルギーの有効利用と
安全性に密接に関連した熱流体工学に関する研究を進め、
特に混相流科学の確立をめざす。
Specifically, we will proceed with research on thermo-fluid engineering,
which is closely related to the effective use and safety of energy in
nuclear reactors (fission reactors, fusion reactors), with the aim of
establishing multiphase flow science in particular.